Mexico is the home of more reptile species than any other country in the world. Unfortunately, many of those species are now endangered, including several types of turtles. People kill the turtles to eat the meat, some believing that the meat will enhance their virility. Others collect and sell the eggs, as well as crocodile skins, to simply make money. Some restaurants offer turtle eggs and meat as delicacies.
Fortunately, there are groups, some of which are sponsored by the Mexican government and other by international groups, that are working hard in different places in Mexico to save turtles and other species, as well as plants that are endangered. And the really good thing is that they all want volunteers to help out on a range of interesting projects. For example,
Projects Abroad
has set up a camp called "Campamento Tecoman" on the Pacific coast of Mexico, with the main emphasis on saving the Olive Ridley Turtle. Volunteers there patrol the 30 km. stretch of beach and collect turtle eggs to place in incubators. Eggs that are not collected have little chance of survival! Volunteers also research extensive birdlife, study other mammals, reptiles and plant species.
Olive Ridley Turtle
Banderas Bay, 100 kms. from Puerto Vallarta hosts another group under the
Global Volunteer Projects
umbrella where volunteers again gather eggs from the beach to place in incubators. When the eggs are ready for hatching they return them to the nests and then guard and monitor them. Four main turtle species are found at Banderas Bay - the Olive Ridley, Black Turtles, the mighty Leatherback Turtle (the largest of all sea turtles) and some Hawksbill Turtles. Peak season is between late June and February. Volunteers have the opportunity to go into the local rainforest to monitor the ecosystem and help with reforestation work.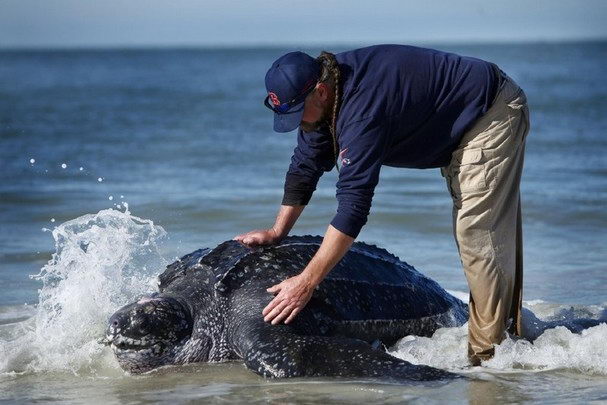 Leatherback Turtle
I'm ready! Anyone else want to go? Check out the sites and you may find yourself making those plans.